Department of
Mechanical Engineering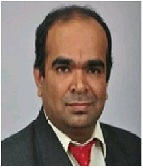 Krishnakumar Anil Jere
Head of Department
Mechanical engineering is the oldest and core branch among all branches. In the growth of technology the contribution of this branch is enormous over the centuries. This branch has wide scope and its scope varies from material science, machinery development, smart material, nanotechnology, missile technology, CAD/CAM/CAE, FMS, CIM, automation and such other inter related developments. This course requires strong computational mathematics, creativity analytical skills.
The areas of study includes heat and mass transfer, refrigeration and air conditioning, manufacturing processes, mechatronics, design of machine elements, CIM, mechanical vibrations and robotics. The areas of studies include various subjects concerned to design, thermal, manufacturing as important streams of this course. The department of mechanical engineering started in the year 2010 with an intake of 60 students. The department is affiliated to Visvesvaraya Technological University, Belgaum from its establishment. Faculty consists of teachers who are constantly engaged in updating themselves through QIP's, deputations, undertaking consultancy and research work of original nature and subsequent publications.
The faculty to the student ratio is 1:15. All the faculty members are well qualified and possess post graduate degree with excellent results. The department organizes seminars and workshops on varied topics every year. The department has very good industry institute interactions. The department provides ample laboratory facilities to the undergraduate students both in conventional subjects as also in emerging fields of specialization. The department has well established CAED, CIM, CAMD and automation laboratory with state of the art hardware and software. The basic laboratories such as fluid and turbo machinery laboratory, energy conversion laboratory, foundry and forging laboratory, heat and mass transfer laboratory and design laboratory have fully pledged facilities. The department has fully pledged workshop measuring 200 sq.meter area, comprising of machine shop, sheet metal, welding, fitting and carpentry sections. Our department, successfully conducting VAP (Value Added Programs) for the students where they are trained under technical skills like AUTOCAD, CATIA V5, CATIA V5 ADVANCED.
Vision :
To become a centre of Excellence in Education and Research in Mechanical Engineering & to create the platform for industrial consultancy.
Mission :
To develop Globally competent, Qualified professionals & Technocrats in Mechanical Engineering to inculcate the spirit of moral values for the development of nation.