Library
Information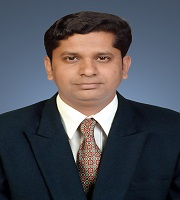 Mr. Nagendra Injal
Librarian
The Library at VSM Institute of Technology, Nipani established in 2010. VSMs Chairman and VSM Institute of Technology Principal have taken keen interest in establishing this Library to give the networked Library facility to the faculty members, staff and students, to get the best available information for research and reference.
The Library working hours are from 09:00 am to 06:00 pm. This Library has totally 450Sq.m and area of Reading room 450sq.m. Started with 23 Computers with few Journals and Books for reference, now this library is connected to the BSNL 32 MBPS leased line internet connection. Latest Books in Civil Eng, Mechanical Eng, Electronics & Communication Eng, Computer Science & Eng. and General Books were also added for the reference of the needy staff and students. 440 CD ROMs of latest text Books are also made available for users.
At present there are more than 19456 Books and 24 National and International Journals in print versions are available. Also, Online Journals of IEEE-IEL, Elsevier Science Direct, Springer, Taylor and Francis, ASCE, Pro-Quest Engg+Management, Knimbus Digital Library are available. Daily more than 40 staffs and 400 students are making use of this Library regularly for retrieval of latest information.