Principal's Message
"Education is a shared commitment between dedicated teachers, motivated students and enthusiastic parents with high expectations"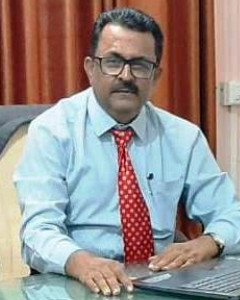 Dr. Umesh P Patil
Principal and Director
It is my great pleasure to welcome you to VSM'S Somashekhar R. Kothiwale Institute Of Technology run by Vidya Samvardhak Mandal.
Today, the role of an Institute is not only to pursue academic excellence but also to motivate and empower its students to be lifelong learners, critical thinkers, and productive members of an ever-changing global society.
At VSM'S Somashekhar P. Kothiwale Institute Of Technology, we provide an atmosphere to our students for multifaceted development, where students are encouraged to channelize their potential in the pursuit of excellence. This can only be possible in a holistic, student-centric environment.
We are constantly reviewing our set up to update and improve while making sure that students gain thinking skills, analytical frameworks, interpersonal and communication skills which will be advantageous to them in the future to reach greater heights.We also ensure to provide students with a supportive platform to think, express and exhibit their skills to develop themselves personally and professionally. We prepare our students for a bright and positive future in the globe to work or of further study.
VSM'S Somashekhar P. Kothiwale Institute Of Technology has qualified and dedicated faculties. The laboratories have been setup not only according to the university syllabus, but also with the state-of-the-art equipment. It also works to bridge the gap between industry and institution by arranging seminars and workshops engaged by the industry experts and academic experts.
There is an ample scope in co-curricular and extracurricular activities at our Institute, wherein the students are encouraged to show their talents. VSM's Somashekhar P. Kothiwale Institute Of Technology ensures that the students prove themselves to be not only well qualified engineers but also very responsible and ideal citizens of our country.
In first decade of its existence the institute has achieved a series of milestones. Credit for the same undoubtedly goes to our, hard working students and dedicated staff. We are thankful to the chairman and Members of VSM and Governing council who have been always encouraging and supportive for all our endeavors. We are sure that, VSM'S Somashekhar P. Kothiwale Institute Of Technology will reach newer heights in the days to come as we believe in ourselves.